Description
Philips Wireless Portable Speaker | BT7900A/00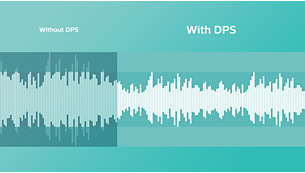 Digital Sound Processing for lifelike, distortion-free music
Advanced sound processing technology enhances the reproduction of your music so that each note resonates with crystal-clear accuracy and each pause is sealed with pristine silence. Philips' proprietary Digital Sound Processing technology optimises the performance of compact speakers, delivering sound that is clear, detailed and powerful without any distortion.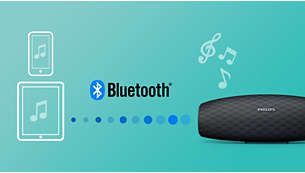 Wireless music streaming via Bluetooth
Bluetooth is a wireless communication technology that is both robust and energy-efficient. The technology allows easy wireless connection to iPod/iPhone/iPad or other Bluetooth devices, such as smartphones, tablets or even laptops. So you can easily enjoy your favourite music and sound from videos or games wirelessly on this speaker.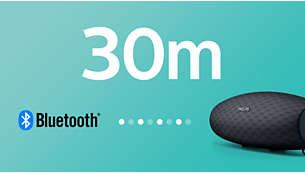 Strong Bluetooth connection up to 30 m or 100 ft
Move freely around with your smart phone, without worrying about dropping your music. EverPlay speaker offers an incredibly stable and long range Bluetooth connection up to 30 metres or 100 feet, three times faster than industry standards. The speakers are equipped with a sensitivity antenna and radio frequency filter to minimise background interference.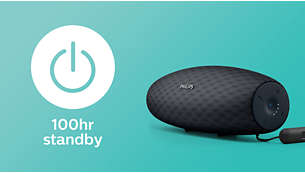 100 hr Bluetooth power standby time
EverPlay's intelligent standby mode gives you an incredible 100 hours of standby time and the speaker can be woken from power-off mode simply by your smart device.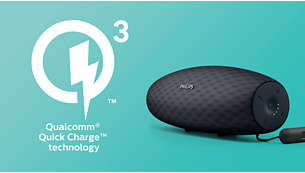 Quick-charge recharges speaker 3 times faster
Charging the speaker usually takes quite some time. EverPlay offers a quick-charge option that can recharge the speaker three times faster than a normal USB adapter. By using a Qualcomm Quick-Charge adapter (not included), which is commonly used in new Android phones, to charge the speaker, the charging time is much faster.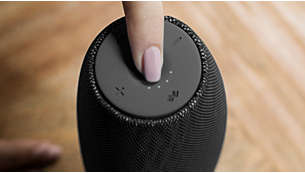 Battery indicator to easily view power level
Finally, a Bluetooth speaker that provides a simple, clear way to see how much remaining power you have! With EverPlay, simply push the power button to see how much battery is left.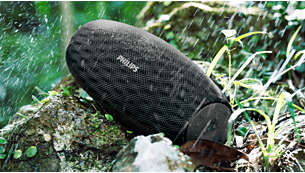 Durable build – shockproof, dustproof and waterproof (IP57)
EverPlay speaker is super durable and features dust, shock and water resistance. Dust cannot interfere with the operation of the speaker. And it is able to withstand immersion in water up to 1 metre for up to 30 minutes. This means that a session in the shower, getting caught in the rain or a quick drop into a body of water will not cause damage. Under Shockproof designation, this product is tested in a "Torture Chamber" to undergo a roller swing test with simulated 5-year product life-time reliability. EverPlay is truly durable!
High-performance DuraFit fabric
The DuraFit fabric covering the speaker provides both functional and aesthetic benefits. With upper rubber overlays covering a matching accent-coloured cloth, the anti-slip, scratch-resistant and washable material offers additional protection, while the unique rhombus mesh pattern also gives it a more modern, sophisticated style.
Twin front-firing neodymium speakers for powerful sound
EverPlay speaker makes no compromises when it comes to quality sound. With two front-firing neodymium drivers, it delivers clear, natural, powerful sound with deep and rich bass. Perfect for any style of music, whether you're playing it loud for a party or enjoying a quiet, mellow moment.
Built-in microphone for hands-free phone calls
With its built-in microphone, this speaker also works as a speaker phone. When a call comes in, the music is put on pause and you can talk via the speaker. Call for a business meeting. Or, call your friend from a party. Either way, it works great.
USB cable doubles as a strap
Recharging has never been so easy. When the power starts to run low, use the handy two-in-one strap-USB charging cable. Plug it in for power, or use it to attach the speaker to a bag for easy portability.
Technical Specifications
Compatibility

iPad

iPad 1

iPad 2

new iPad

iPad with Retina display

iPad Air

iPad Air 2

iPad mini 2

iPad mini 3

iPad mini

iPad mini 4

iPad Pro

iPhone

iPhone 3

iPhone 3GS

iPhone 4

iPhone 4S

iPhone 5

iPhone 5C

iPhone 5S

iPhone 6

iPhone 6 Plus

iPhone 6S

iPhone 6S Plus

iPhone 7 

iPhone 7 Plus 

iPod touch

3rd generation or later

Android tablets and smartphones

with Android 2.1 and Bluetooth 2.1 or above

other Bluetooth-enabled device

Yes

Sound

Output power (RMS)

2 x 7 W

Sound System

Stereo

Loudspeakers

Speaker drivers

2 x 1.5″ full range driver and 2 x 2.25″ passive radiator

Connectivity

Bluetooth profiles

Bluetooth range

Line of sight, 30 m or 100 ft

Audio Connections

3.5 mm Line in

Convenience

Water resistance

IPX7

Built-in microphone

for speaker conference

Dustproof

Yes

Power

Battery type

Lithium-ion (built-in)

Operating time on battery

10  hr

Accessories

Included accessories

USB cable for PC charging

Quick install guide

Dimensions

Product dimensions (WxDxH)

201 x 71 x 72  mm

Packaging dimensions (WxDxH)

216 x 97 x 94 mm

Product weight

0.53  kg

Weight incl. Packaging

0.72  kg

Design and finishing

Colour

Blue